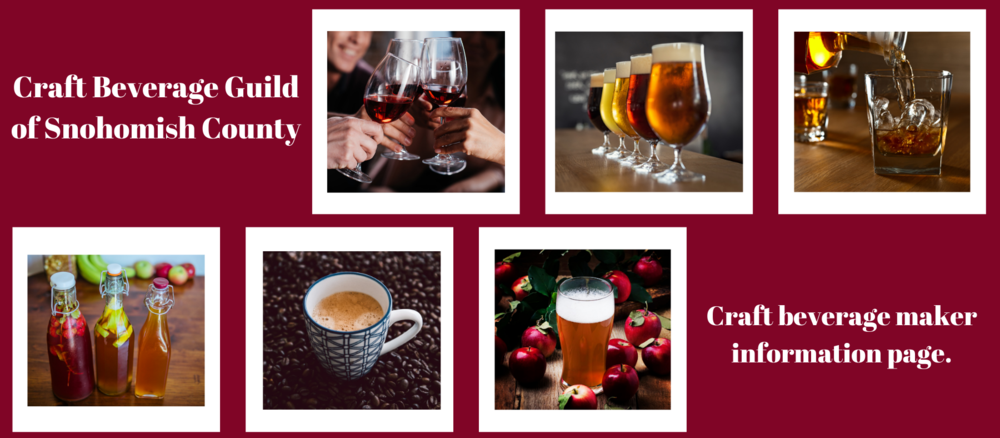 Snohomish County Craft Beverage Guild is a registered 501 c(6) non-profit trade association that was founded to protect and promote the interests of the fledgling craft beverage scene in Snohomish County. As of January 2020, the Snohomish County craft beverage scene boasts more than 68 operational breweries, wineries, distilleries and coffee roasters with many more in planning.

The mission of this Guild is to further promote our local craft beverage makers, move forward on Guild Member initiatives that foster profitability, advocacy, public awareness and education, and provide a voice at the county representing the interests of all of Snohomish County's craft beverage makers. We are tirelessly working towards making Snohomish County a premier craft beverage destination, not only in Washington, but across the region.

The Guild's vision is to further enhance and educate the public about the multiple and diverse craft beverage producers and businesses that support this Snohomish County industry.

The Guild is committed to create and maintain positive and ethical relationships among its members and within the community it serves. We strive to advance the industry as a self-regulated group extending membership to industry businesses in which the craft beverage consumer can have the utmost confidence.

Local Liquid Arts (LLA) is a moniker to help promote and unite Snohomish County wineries, breweries, meaderies, cideries, distilleries and coffee roasters in one promotional effort. Our Local Liquid Arts page promotes our craft beverage makers, their events, the events we are involved with and special announcements about Snohomish County craft beverage makers. Local Liquid Arts was established to help promote and bring awareness of our local craft beverage makers in Snohomish County. We work to help promote our area's assets by partnering with the county, local Chambers, taprooms, and other industry supporters.